• On April 13, 2023, the cities of Wrocław and Cheongju signed a partnership agreement.
• The scope of the partnership agreement includes, among others, economic issues such as improving communication and meetings between local entrepreneurs in two cities, promoting culture and cooperation of academic circles.
• President Cheongju visited the LG Energy Solution Wrocław electrical car battery manufacturing plant in Wrocław.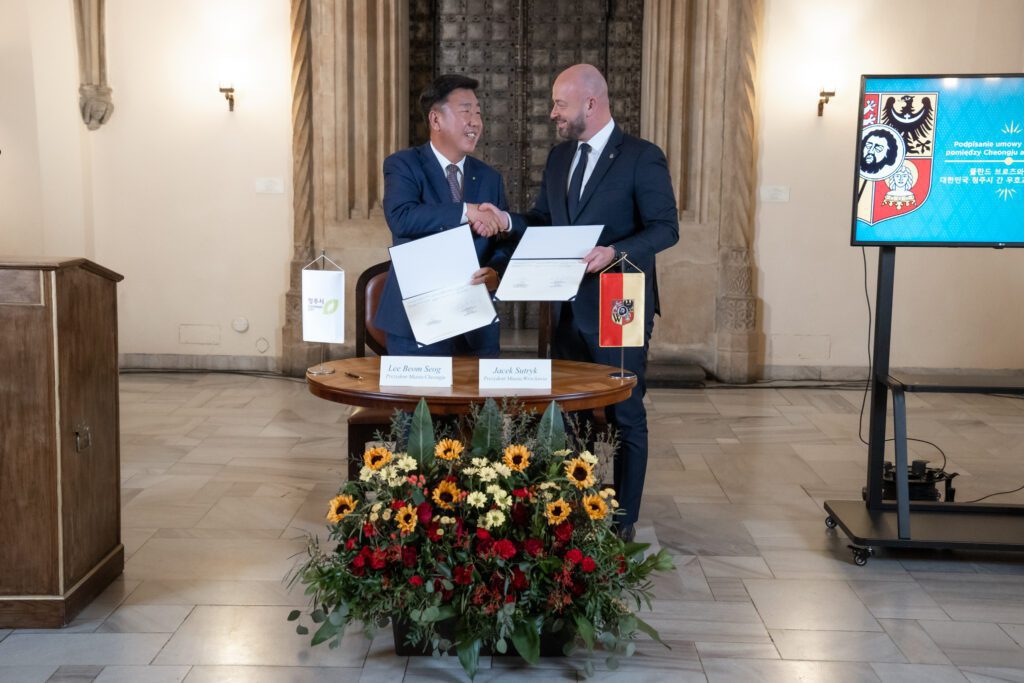 Cheongju, a South Korean city where LG Energy Solution has its roots, yesterday (on April 13) signed a partnership agreement with Wrocław. Cooperation will concern, among others, attracting foreign investors, urban development and joint actions for environmental protection and education development.
"Our inhabitants are united by economic and political ties. South Korea and Poland have a strategic location – our countries have achieved peace and prosperity despite many obstacles. After 1989, more than 300 Korean companies, including the LG Group, started operations in Poland. In 2020 Poland was the 17th largest recipient of exports of South Korea and 4 Cheongju's biggest partner, said the President of Cheongju, Beom Seong Lee. - Wrocław is a particularly important place for entrepreneurs from Cheongju, because about 40 companies, headed by LG Energy Solution and LG Chem, are active in the industry of modern technologies and the production of batteries for electric cars. Every morning about 2800 Koreans start their day in Wrocław". – added Cheongju's President Beom Seong Lee.
"Today's agreement brings hope for the expansion of the Korean community in Wrocław. – Said Jacek Sutryk, Mayor of Wrocław during the ceremony. – Thank you for the presence of representatives of companies that are important for our development, especially LG Energy Solution Wrocław – the first and largest center of battery production for electric cars in Europe." – Added Mayor Sutryk.
The signing ceremony was attended by local councilors, representatives of LG Energy Solution Wrocław and the Wrocław academic Community, as well as Koreans living in the region of Lower Silesia on a daily basis.
After the ceremony at the City Hall, Cheongju City President, Beom Seong Lee visited LG Energy Solution Wrocław. During the meeting, the President of the company, Jangha Lee, presented the production lines of the largest plant in Europe.
"The LG Energy Solution Wrocław plant is really impressive. I did not expect to invest such sizes, especially that our home plant in Cheongju, in Ochang is much smaller."- said President Beom Seong Lee.
"The technology of battery production for electric cars began to develop at LG Energy Solution in Cheongju and these pioneering roots are clearly visible in our subWrocław plant. With the support of Cheongju City, we could create the largest lithium-ion battery manufacturing facility in Europe. We hope that today's visit opens up fruitful cooperation between both cities, which will bring results in both economic, cultural, sports and educational fields." - added LG Energy Solution Wrocław President, Jangha Lee.